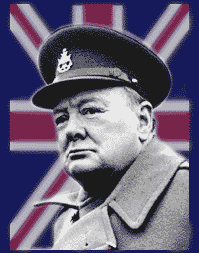 Arrogant, reluctant to relinquish power, gifted orator – these are some of the many phrases used to quantify the phenomenon that was Winston Churchill, who died 53 years ago this week.
Since his death in 1965, this political colossus has continued to live on in stellar portrayals on screen and stage. He's featured in 35 movies; around 30 more on the small screen; with countless more stage appearances.
Darkest Hour, the latest addition to this collection, has been nominated for six Oscars, including Best Picture, and has already raked in $54.7 million.
Looking back, we pick five of our favourite on-screen Churchills.
Gary Oldman
Gary Oldman as Winston Churchill dancing as James Brown is sure to brighten your day. See #DarkestHour, now playing! https://t.co/EJqtAGmypv pic.twitter.com/dBW5maGyzi

— Darkest Hour (@DarkestHour) January 19, 2018
Despite three decades laced with some standout performances, it took Churchill to push Gary Oldman into the award spotlight. Transformation comes easy to the 59-year-old, as we have seen in memorable performances from the Harry Potter franchise, Bram Stoker's Dracula, Hannibal and Tiptoes among others. Darkest Hour traces Churchill's early days as Prime Minister and the political perils of Germany's dominance during World War II. Oldman's Churchill is more than just an old grumpy cigar-wielding man, bringing his wit and energy onto the screen, thereby ensuring his place among other fine portrayals of the legendary statesman. The attention his performance has garnered has also thrown the spotlight on domestic abuse allegations made by his ex-wife.
Robert Hardy
This generation knows him as the pompous but cowardly Minister for Magic Cornelius Fudge. Back in the day, however, Robert Hardy breathed life into Churchill's character in as many as nine screen/stage productions over 40 years. This began with Winston Churchill: The Wilderness Years (1981). He was seen playing the statesman again in The Woman He Loved (1988), the mini-series War and Remembrance (1988-89), Bomber Harris (1989), an episode of Agatha Christie's Marple (2006) and Churchill: 100 Days That Saved the World (2015). He is known by the cast and crew of various productions to enjoy playing the former Prime Minister.
Albert Finney
#DarkestHour was ok I guess… But it felt like Gary Oldman's attempt to win an Oscar to me.

If you want to watch a film about Winston Churchill then I suggest 'The Gathering Storm' https://t.co/VyLnmcP4Pq

Lots of famous names and faces in the opening two minutes 30 seconds… pic.twitter.com/IY6kFOQv90

— Simon Needle (@simonneedle) January 20, 2018
Albert Finney's portrayal of Winston Churchill in BBC's The Gathering Storm won him a BAFTA and an Emmy. He had it all figured out – the walk, the talk – the resemblance was uncanny. There was a showmanship to Churchill which Finney captured quite emphatically back then; something Gary Oldman is being lauded for now.
For actors, the fear of slipping into caricature must never be far away, considering the strength and ubiquity of Churchill's personality.
Finney, however, brought his own essence into essaying the hard-nosed politician during his wilderness years. The British actor has admitted that the prospect of playing Churchill was as intimidating as it was exciting and he rose to the occasion perfectly.
Sir Michael Gambon 
Churchill's Secret, ITV, review: Reveals the poisonous… https://t.co/XaJd9fD1H2 #ITV pic.twitter.com/km1n8k3hkh

— Dαиi รυи (@s1ntab) December 15, 2017
Before he became synonymous with Hogwarts headmaster Albus Dumbledore, Sir Michael Gambon brought the man alive on ITV's television drama Churchill's Secret. 
This portrayal may not be physically too accurate and the movie has its many inaccuracies, but the class the Gambon brings to the character is unmatched. More than the political mastermind, we find ourselves introduced to a man weakened by a stroke but with unflinching resolve to get over the adversity and maintain his stature on the political stage.
We don't see a man controlling the masses with his famous speeches, but someone struggling to control his own reflexes. You may not take away the detail of this show, but you will take away Gambon's Churchill.
Brendan Gleeson
"Into the Storm" o "Churchill at War", telefilme de 2009, interpretado por Brendan Gleeson, narra sus días como 1r Ministro durante la II GM pic.twitter.com/hkFpFny1NG

— Cine histórico épico (@CineHistorico) January 26, 2017
Gleeson was filling Finney's shoes when he decided to shoulder the burden of playing Churchill in BBC's Into the Storm, the sequel to The Gathering Storm. The movie sees Churchill (Gleeson) at his strategic best, figuring out England's destiny when the Second World War is in its prime.
We see a man with the skill and ability to handle military situations mildly struggle when it comes to the politics of peacetime, a contrast Gleeson manages to essay to perfection. The visible sulk, the jowl and the intensity of dialogue delivery are bonuses. This performance won the Actor a Primetime Emmy and a place in television history. This is a gem to keep for posterity.
Bonus: John Lithgow
On 24th January 1965, Sir Winston Churchill passed away at the age of 90. Many of his triumphs against adversity are common knowledge, but a few are not so well known. pic.twitter.com/nOqz95F9H2

— The Crown (@TheCrownNetflix) January 24, 2018
American actor John Lithgow is another actor who took home the Emmy for scaling Churchillian heights with his take on the man in Netflix's The Crown. We see a conviction in every emotion as Lithgow takes us through Churchill's growth during Post-War Britain in the show. His complacency over getting his way with the Queen (played by a brilliant Claire Foy), his subsequent embarrassment when the Queen admonishes him, the subtle quiver in his voice and gaze when he finds himself pushed to the wall are all done so well that you sometimes forget that the man on screen isn't the man himself. The Crown highlights more follies of Churchill than his successes and it takes a talent like Lithgow to carry the strength and larger-than-life aura of Churchill even through these pitfalls.
January 24 marks the 53rd anniversary of the death of one of Britain's greatest politicians and orators of all time. Tributes to the statesmen don't seem to end; neither do the efforts to capture his essence in film, television and theatre.
Hace 53 años moría uno de los grandes hombres de la Historia Mundial, Sir Winston Churchill. Así lo despidió su pueblo. https://t.co/PfhXSdVeD5

— Luciana Sabina (@kalipolis) January 24, 2018
With all the #WinstonChurchill stuff going on at the mo, thought I'd just post this photo of the man himself visiting an #RAF base during WW2 where my Uncle John was a pilot (he's the one 4th face along from the left). He flew Hurricanes, btw! pic.twitter.com/8q8g2N75HX

— Nick Oldham (@NickOldhamBooks) January 24, 2018
Leo Strauss's January 25, 1965, classroom eulogy of Winston Churchill is short. Here it is in a few threaded tweets.

"The death of Churchill is a healthy reminder to students of political science of their limitations, the limitations of their craft.

— Bill Kristol (@BillKristol) January 24, 2018
Prime Minister Winston Churchill sadly passed away on this day, 1965. pic.twitter.com/q2Tobykykk

— Terry O'Neill CBE (@Terry_ONeill) January 24, 2018
Winston Churchill died #OTD in 1965. He is best known today as Britain's great wartime leader, but Churchill led a long and eventful life, with Parliament playing a central role. pic.twitter.com/wjUqA9FlIt

— UK Parliament (@UKParliament) January 24, 2018